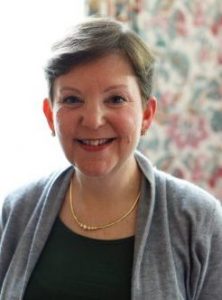 Moira Schur Craw was born and raised in Weston, Connecticut. She was an active member of the Norwalk Youth Symphony and went on to continue her music studies in England at Dartington Hall College of Arts. Ms. Craw attended Mannes College of Music in New York City, where she studied with Ms. Francis Blaisdell and Samuel Baron. After her marriage, she transferred to Michigan State University, where she studied with  Alexander Murray. While attending college, Moira taught flute lessons at the Lansing Conservatory of Music and performed chamber music. In 1974 she received a Bachelors of Science in Music specializing in flute  performance.
When she and her husband returned to Fairfield County, Connecticut, she continued to teach and perform. Ms. Craw has performed with many ensembles, among them the Cincopace Consort, an early music ensemble, The Norfield Woodwind Quintet, Prevailing Winds, also a woodwind quintet, and Windwood, a duo of flute and classical guitar. She has also performed solo repertoire for flute with piano.
In 1990, Ms. Craw formed the Magdalena Consort. Her consort provides her with a variety of settings in which to display her flute artistry. The Consort performs a full range of chamber music ensembles including duos of flute and piano, or flute and guitar, trios with flute, violin and cello, etc. Ms. Craw's repertoire ranges widely from authentic Baroque and Renaissance literature performed on period instruments, Baroque flutes and recorders, to contemporary literature on the modern flute.
Currently, Ms. Craw is a member of the Manhattan Recorder Orchestra in New York City and the Westport Community Band, playing alto saxophone. Mrs. Craw also plays the Irish flute and drum and has performed throughout the area with various Irish ensembles.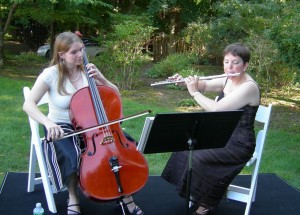 For the past 35 years, in addition to performing, Ms. Craw has shared her musical talent teaching students of all ages, from adults to children, to play a variety of instruments. She encourages a love of music in all her students, especially young children. She has taught music in several local schools, as well as privately.
She was the director of the Lower School Instrumental Music Program at Greens Farms Academy, Greens Farms, Connecticut, from 1997 to 2000. She went on to teach Band and general music at the East Ridge Middle School in Ridgefield Connecticut, from 2000 to 2001. From 2002 to 2005, she was the director of the instrumental music department at Ridgefield Academy, teaching lessons and directing the middle school Jazz Band, Flute Ensemble, Recorder Ensemble, Tone chimes and Hand Bell Ensembles.
Currently, she is teaching for Kids Empowered by Your Support (KEYS), a non-profit organization. Traveling to an inner-city school, Ms Craw provides private music lessons to teacher-recommended students, who would otherwise not be able to afford music lessons. "You never know where or when you may come across a child with true talent," said, Mrs. Craw, "It's a great joy to find that you can touch a child's life and really make a difference."
Mrs. Craw is also concentrating her efforts on a series of music method books, The Schur Method for all the woodwinds and brass instruments. In addition, Mrs. Craw has a busy teaching schedule of private students at her home studio in Wilton, Connecticut.