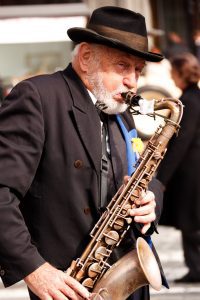 "It has been my great pleasure to teach many adult students over the past 35 years," said Mrs. Craw. "I've taught adults ranging from absolute beginners, who have never read music, never held an instrument or sat in front of a piano, to advanced players, who are preparing audition material for select ensembles. Additionally, I have experience teaching large groups. For example, I taught and directed the Fairfield County Recorder Ensemble, a group of 25 adults, who performed chamber concerts and performed at private social events."
There are many reasons why adults chose to learn to play a musical instrument. Being able to play for your own life's enrichment is a joy in itself and provides a great sense of accomplishment. There's a social advantage also, to those who  have the ability to play an instrument. Whether you play at parties with friends or play with a band or orchestra, you and the people you perform with develop a musical bond. Playing an instrument is also a good way to offset the tensions of the workday. Because it is active and involves your complete attention, you must let go completely of all your stress and distractions in order to play.
Scientists have discovered that activities such as crossword puzzles, chess, and card games can provide exercise to the human brain. However, it is a fact that playing a musical instrument is the one activity that uses the highest percentage of the brain. So, whether you are playing for your own pleasure, to find an enjoyable means of stress relief, or to get mental exercise, learning to play a musical instrument is a wonderful outlet. Learning a new skill is challenging and lots of fun.