Fifteen years ago, Moira Schur Craw became frustrated by the limitations of the music method and band books available. As a result, she began to set down her teaching technique in her own method book: The Schur Method for Flute (pronounced "sure"). From there, she began adapting The Schur Method for all woodwind and brass instruments (oboe, clarinet, bassoon, alto, tenor or baritone saxophone, trumpet, French horn, baritone horn or euphonium and trombone) and now uses The Schur Method series of books in her private lessons.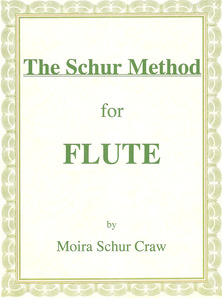 "My Schur Method books are designed so that each unit includes all the aspects of a complete music lesson, which should be like a good workout at the gym," explained Mrs. Craw. "Each unit begins with warm up exercises, 'Skills 'n' Scales,' continues through the workout, 'Lesson' and 'Etudes,' and 'Theory' and 'Rhythm' worksheets, and finishes with the cool down, 'Familiar Melodies' and 'Duets.' Everything teachers and students need in in one book!"
A comprehensive teaching tool, The Schur Method covers basic to intermediate concepts and can be used for the first several years of lessons. The material is presented in a logical order with clear and concise explanations. Students do not need to purchase multiple books. Teachers do not need to search for music at the appropriate level for each student.
"The students I teach privately are excelling in their school programs, many of them sitting 'first chair,' Mrs. Craw said. "Many have also been invited to participate in regional festivals and other extracurricular programs. I know The Schur Method has supported them and is an effective tool important to their success."
"To be succinct: The Schur Method works!"